When I was about 10 or 11, I accompanied my father on one of his Saturday morning volunteer rescue missions to repair some sort of machinery in North Nashville. I can't remember if it was for a relative, friend, or even a friend of a friend, but it could have been any of the above; Dad was a mechanical wizard who could fix anything, and there always seemed to be a car, washing machine, radio, television or gizmo-at-large that needed fixing, tweaking or a swift kick in the assemblage. It was a cold winter morning, so he asked me to wait in the small warehouse on the property, while he performed his mechanical magic. "Don't touch anything," he told me.

I hustled inside to get warm, and as my eyes adjusted to the dim light, I beheld an incredible site. Toys! There were mountains of toys of all kinds—board games, electric trains, dolls (but who cared about that?), radio-driven cars, BB guns, model airplanes, and other wondrous playthings, all stacked to the ceiling in their shiny un-opened cellophane-wrapped boxes. It was like the Nashville distribution center for Santa. I wandered around the warehouse, incredulously inspecting the contents (but not touching!) and rehearsing how I would ask my dad if I could have one (just one!) toy from the stockpile of boxes. "Don't even ask," my father said after he reappeared, once his mechanical task was completed. He knew me too well. I left the dingy warehouse empty-handed, but my heart was full of joy just to know that places like that little toy heaven actually existed.

As I got older and the joys of toys were replaced by the finer things in life, such as art, love, music and food, I still experienced the giddy thrill of serendipitous discovery from time to time, and it was always an unexpected and pleasant surprise. For example, in the early '70s when I was an art major at Carson-Newman, I attended a "bring your blanket and sit on the floor" concert in nearby Knoxville on the UT campus. One of the opening acts was an enthusiastic kid who had recently left his job in Nashville as a Billboard magazine correspondent. His name was Jimmy Buffett, and he strode out onto the stage with just his guitar and harmonica. I left the auditorium still humming the melody to his song about a pencil-thin mustache, and to this day, I can't remember the headline act.

I can't remember if my fraternity brother, one-time bandmate and fellow CN art major, Ran Coney was with us at that concert, but Ran and I shared a love of music and art, and we introduced each other to all kinds of bands. He first played King Crimson for me, and I shared Poco with him. He also introduced me to a song called "Piano Man" (both Ran and I played keyboards) by an up-and-coming New York piano player named Billy Joel. I sniffed at the song's line "and the microphone smelled like a beer," but not too many years later, it suddenly made sense, as I sang for my life (or at least my supper) in the far corner of a dark little taproom in an East Tennessee Holiday Inn.

As songwriters, both Ran and I thought Billy Joel was a master of the craft. When Joel released his "Glass Houses" album (complete with a cover shot of him on the verge of hurling a brick through his real-life Long Island glass house), I was surprised when many of the critics panned it. At the time, I was art director of the music trade magazine, Record World, and I drew an industry-related cartoon every week. After one particularly scathing "Glass Houses" review appeared, I decided to fight back with the RW cartoon and turn the brick around on the critics. The cartoon depicted a rock critic's office where the brick had just been thrown through the lobby window. The critic's secretary was on the intercom to her boss, saying, "…I believe there's a Mr. Joel here to see you…" People in glass houses, indeed. Some of the guys at Columbia Records (Billy Joel's label) loved the cartoon, and they showed it to his people. A couple of days later, I got a call from the editor of the Billy Joel newsletter asking if they could re-print the cartoon.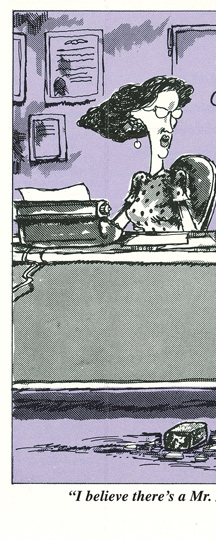 I was more than happy to share the fun; I loved keeping the folks at Columbia happy. I actually felt like I owed them one; they had shared a secret with me—the name and location of an out-of-the-way Italian restaurant in Manhattan's Hell's Kitchen, on 9th Avenue, between 38th and 39th. It was a little old storefront, only 25 feet wide, that you could easily walk by and never notice. The storefront sign said "Supreme Macaroni Company," and it was an ancient butcher shop that had been converted into an old-world pasta shop. In the front of the old store were wood-and-glass cases, all stocked with various sizes and shapes of pasta in their individual bins. The hidden pearl, however, was Guido's Restaurant, a small, tile-floored room at the back of the shop. It was a best-kept secret among members of the entertainment and music communities, and known only through word of mouth. At the far end of the front (pasta) room was a hall that led to Guido's, which was actually just a small room at the back of the building. The room held only 9 or 10 tables, all covered with red-and-white checkered tablecloths. There was an open door on the far wall, and it led to the modest kitchen.

Guido's was very reasonable but cash-only, and it featured the best Italian food and home-made wine this side of Italy. The restaurant's walls (as well as the walls in the hall) were covered with framed, glossy black and whites of both family and celebrities; some of the pictures featured both. There was usually a line stretching from the front door through the front room and into the hall as the famous and not-so-famous waited their turn for a great meal. There was also an elderly lady in a faded cotton floral-print dress, sitting at the front in a straight-back chair, sometimes shelling peas. After I had been there several times, I realized that she was in many of the pictures on the wall, posing with family members. In some of the pictures where she appeared a few years younger, there was an elderly man beside her, and you had to wonder if he was Guido, himself. Also, if you looked a little closer, you could discover pictures of the two as a middle-aged couple, posed with other family members. The closer to the backroom and kitchen you got, the younger the two were in the framed pictures on the walls. On one of the walls inside the restaurant area, there was a wedding picture of the two from many years before. It was as if you were moving back in time on your way to the restaurant area.

So, when my old artmate and fellow culture explorer, Ran flew up from Atlanta to visit me in New York, it was only natural to share Supreme Macaroni/Guido's with him. We filed past the elderly woman seated in the front room, and as we waited in line in the hall Ran took in all the photos. "This would make a great photography exhibit," he said. As we stood in the hall at the edge of the restaurant room, next in line to be seated, Ran asked, "What's good? Do they have a specialty?"

"Meatballs," said the guy behind me (I was going to say "lasagna"), as the hostess motioned us to follow her to our table. As she handed us our menus, we turned to thank the guy for his recommendation. It was "Saturday Night Live" alum Bill Murray, and he was grinning. I didn't understand the joke until sometime later; Meatballs was a Guido's specialty dish (and also one of Murray's movies).

We were seated at the back of the room, and my back was to the wall next to the door leading into the kitchen. "I feel like I've seen this place before," Ran said, looking around. Then he stopped, and his eyes grew wide as he peered over the top of my head. I turned to see what he had discovered. It was a framed and autographed back cover of Billy Joel's album, "The Stranger." The back cover shot was a picture of Billy Joel and his band inside an Italian restaurant, apparently to pay off the album's track, "Scenes From an Italian Restaurant." It wasn't just any Italian restaurant; it was Guido's. It wasn't just any table; it was the table in the back, by the kitchen—our table. The only thing missing from the picture was the framed back cover of the album, but you know that old pesky space-time continuum thingy. We toasted Billy Joel; we toasted Guido's; and we toasted the crazy lives that we had led, from East Tennessee to Atlanta to New York.

It was one of those serendipitous events that I'll always remember, much like the Buffett concert and the mysterious toy warehouse. And so, the years have slowly moved along, much like the line for Guido's, slowly snaking through the front room toward the back. They did finally tear down the Supreme Macaroni Building to make way for a glittering 12-story, mixed-use hotel/condo. Billy Joel hasn't released a new album in 20 years, although he did play in the recent benefit for the victims of Hurricane Sandy. Ran passed away in the Spring of 1997, but he left a legacy of artwork, including a ceramic sculpture at an Atlanta MARTA station, along with a number of paintings and ceramic works in various collections.

And now, as the pictures from my youth move further into the distance, I often think about those special times when we were discovering new music and new places, and I try and keep the memories from fading. More and more, I find myself recalling people and places that are no longer here. I don't have a lot of regrets, but in retrospect, I do wish I'd tried the meatballs at Guido's.

David Ray Skinner
david@bridgital.com
---
---